Alexandria's Near Eastern Dance Company
Latest NEWS And Up Coming Events! SHOWS & EVENTS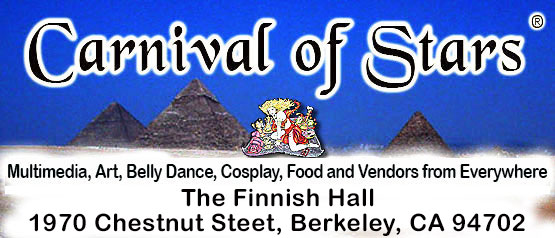 Carnival of Stars!
Put on annually by Pepper Alexandria and Latifa. Carnival of Stars is a
combination Belly Dance show and Comic Book Convention.


That's two full days of non-stop professional belly-dance performances and other entertainment interspersed with live musical performances, panel discussions and a costume contest -- complete with prizes!

Performers from all over the world converge on the stage, solo after solo, troupe after troupe, while audience members are free to peruse the various items on sale at the vendors' booths that fill the hall, and also to savor delectable Food and Drinks at reasonable prices. Our International Market features arts and crafts, dance costumes and accessories, jewelery, comic books, artwork and gifts of all kinds. Our continuous show includes stars of the belly-dance world and a variety of other entertainers.
Carnival of Stars!

Alexandria Dance Instruction
To Fit Your Wants and Needs.
Please call: 510-548-6128

Alexandria's E-mail: Hipaysha@aol.com